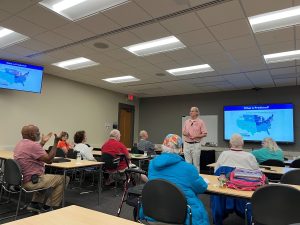 Once each week in June 2023, the Osher Lifelong Learning Institute, or OLLI, and CIROH joined hands to immerse curious minds in the field of water and climate research. OLLI is a year-round program at The University of Alabama offering non-credited courses, educational and social opportunities to adults interested in enhancing their daily routines. The organization advocates lifelong learning and active lifestyle choices for those susceptible to Alzheimer's and other memory-affecting disorders. By collaborating with OLLI, CIROH strives to make progress toward its vision of empowering learners of all types to understand hydrologic science, build community resilience to water-related hazards and produce substantial benefits for society.
Dr. Ryan Johnson, an AI research scientist at CIROH, led the first session of World of Water on June 6. During his presentation, Johnson shared the various ways that data-driven water models, machine learning and artificial intelligence can be used to anticipate ground snow levels in the West.
On June 13, OLLI students attending the second session were educated on current weather prediction models in place, virtual atmospheres and unpredictable condition factors that affect tracking. The class began with a crash-course demonstration of the unpredictability of weather by Zachary Krauss, a meteorologist and director of communications at the Alabama Water Institute and CIROH. By using a hands-on example of a rubber ball and two people spinning, students observed how easily different factors can contribute to climate and prediction.
Dr. James Halgren, a research engineer at the AWI and CIROH, ended that day's session with his presentation, "Current Events in Water Forecasting." Halgren highlighted the technology used in real-time flood mapping and its evolution over time by introducing the group to flood maps from 2023 snow conditions, gradual Great Salt Lake map changes and the Crimea dam event in the Ukraine.
Mike Fedoroff, director of cultural and water resources preservation, led the third session on June 20. In his lecture, Fedoroff described the professional role of archeologists, shared engineering techniques and vessel evidence from the Civil War and pitched the benefit of growing native plants to improve natural landscapes and ecosystems.
Lastly, on June 27, Dr. Steve Burian, the AWI's director of science and CIROH's executive director, guided the concluding World of Water class of the year. Throughout his lesson, students were educated on hydrological impacts created by climate change as well as emerging civil engineering solutions to water issues.
Audience participation and engagement facilitated the successful creation of this course, and the consortium looks forward to working with OLLI again in the future. By introducing new audiences to the field of water and climate research, CIROH strives to continue positively affecting academic and other communities. To learn more about OLLI and its impact, visit the OLLI about page.

To watch the OLLI presentations, visit the YouTube playlist.